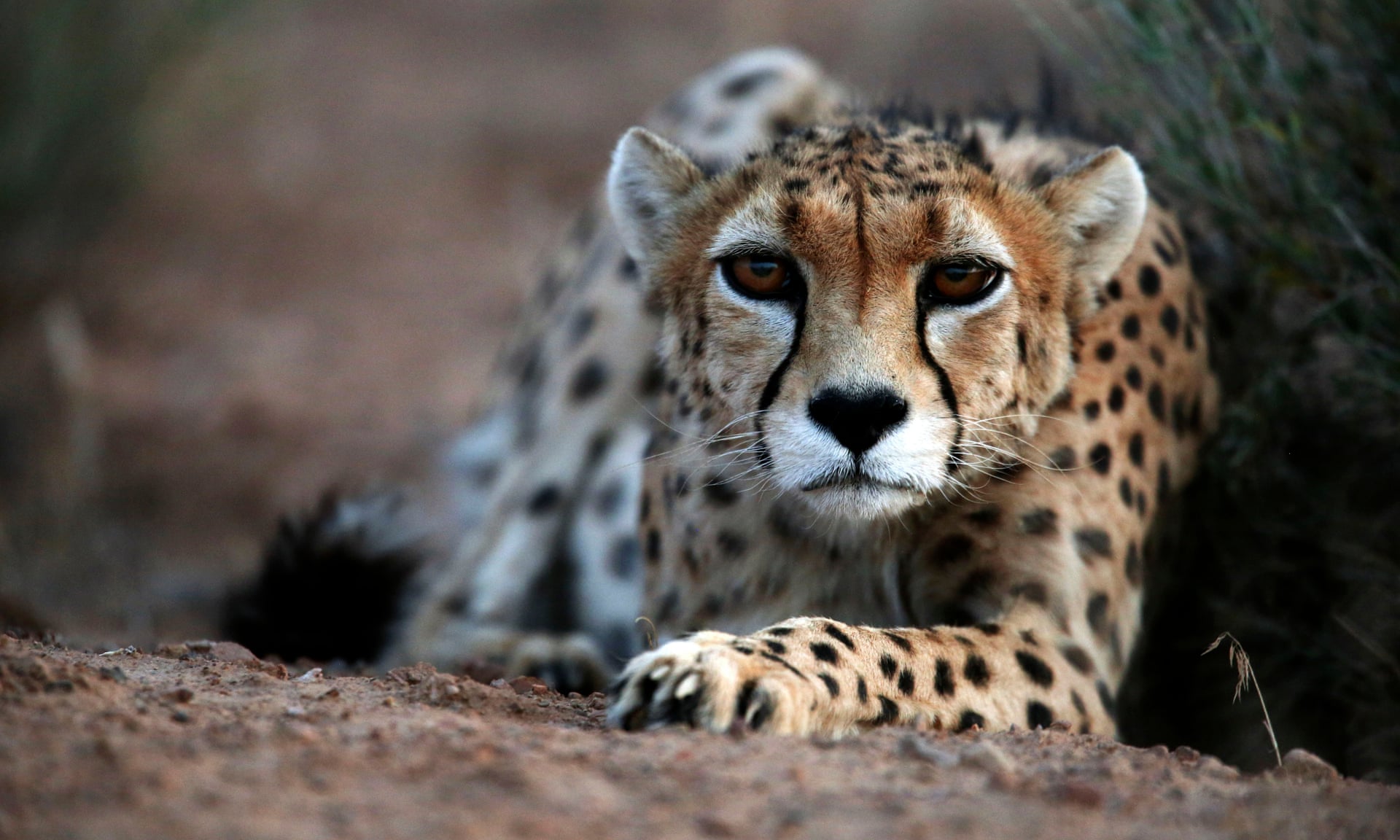 A seven-year-old male Asiatic cheetah.
The
cheetah
is one of several species of wild animals that epitomizes Africa in the people's mindset. This is true as seen in countless wildlife documentaries from past and present years. But what most people do not know is that there were and still are cheetahs in Asia. In centuries past, the
Asiatic cheetah
once ranged throughout the
Arabian Peninsula
and the
Near East
to
Iran
, covering
Central Asia
and the
Caucasus
, and extending all the way into
India
. Proof of these magnificent cats' existence is most notably seen in ancient
Indian artwork
from the
Mughal era
in which cheetahs are depicted hunting swift prey such as
blackbucks
and
chinkaras
for the
emperors
and
maharajahs
. They were also kept as companions for the royalty at the time. However, as time progressed into the 19th and 20th centuries, the attitude towards the cheetah in Asia changed dramatically from being seen as a hunter to the hunted. As a result, countless numbers of cheetahs were killed drastically throughout their former home range and ultimately confining them to the eastern half of Iran. Iran may be the last stronghold for the cheetah, but its numbers had been diminishing perilously since the 1970s due to man-made factors ranging from
land-use change
,
habitat fragmentation
and
degradation
, to persecution. As a result, fewer than 50 cheetahs are now left in Iran putting them on the brink of extinction. Scientists and
conservationists
are afraid that, without necessary intervention, there is little chance in saving these cats from extinction, especially after a decision made by the
United Nations
to remove funding from conservation efforts to protect them.
An ancient Indian painting depicting Mughal emperor Akbar hunting with cheetahs.
There had been several measurements in recent years to help increase awareness of the cheetah's plight in Iran. For example, in 2014, the
country's national football team
declared
that their
2014 FIFA World Cup
and
2015 AFC Asian Cup
kits
would be imprinted with pictures of the cheetah. Furthermore, a
crowdfunding
conservation project was established, and August 31 this year was declared "National Cheetah Day." Despite these efforts, the cheetah's decline has continued. According to
Urs Breitenmoser
of
Bern's
Cat Specialist Group
, the cheetah has disappeared from
Kavir
in the western area, while individuals in the southern region are too sparsely spread for enough to interact and breed, and it is only around
Touran
and
Miandasht
in the north where there are enough individuals to control a population. Enforcing protection measurements of these last remnants of Iran's cheetah territory proved to be intensely difficult, due to cuts made by the
country's government
to its
environment department's
budget. Luckily, the
United Nations Development Programme (UNDP)
supported Iran's cheetah conservation project by being able to get money into the country when other international agencies could not. But now, the agency announced that it could not continue supporting the project financially after December because it had to make significant cuts in its budgets. Therefore, Iran should now handle the project alone.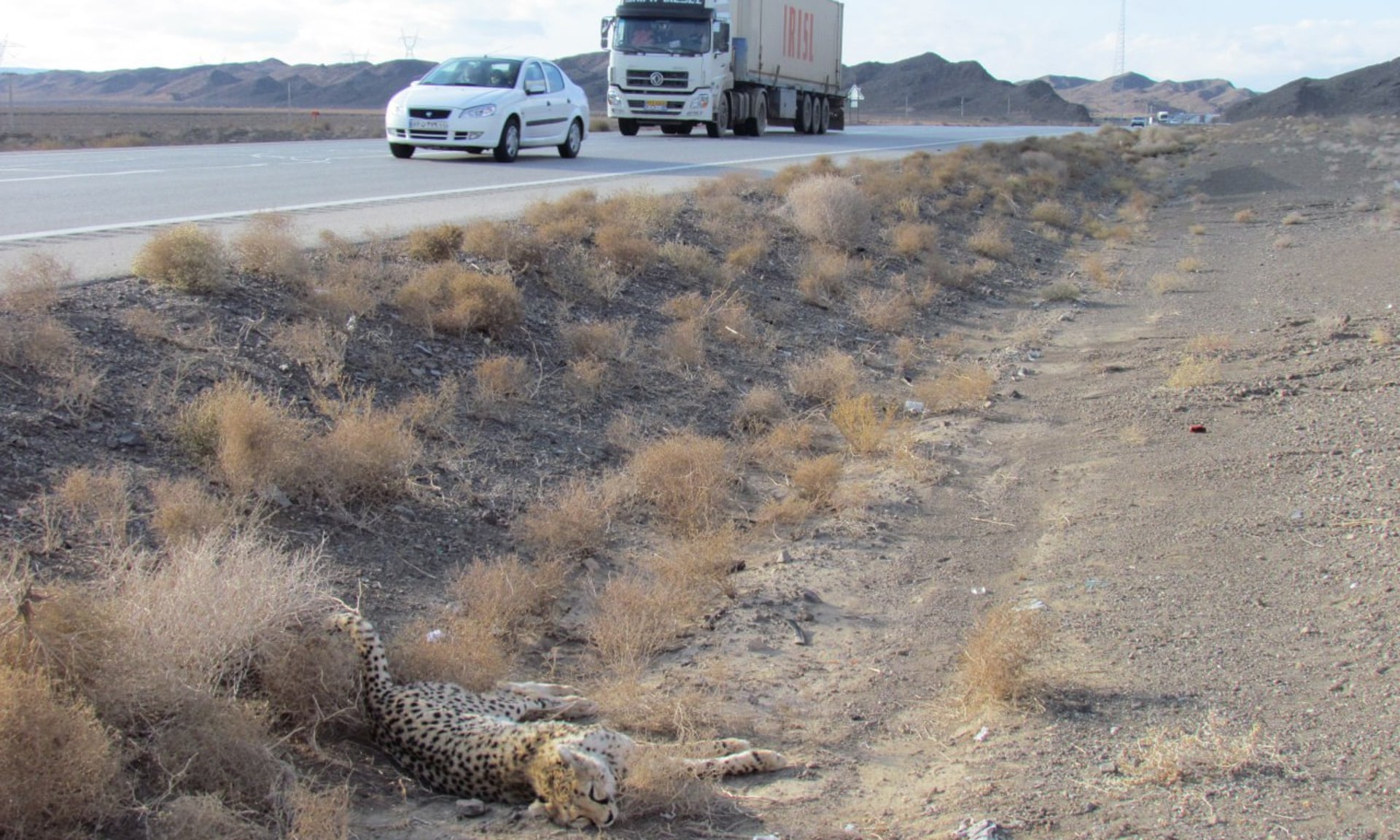 Despite the presence of signs warning drivers, many cheetahs like this one are killed by vehicles in Iran.
I do not know how to put it into words, but it is perfectly clear that the Asiatic cheetah is on a knife edge and will become extinct in a span of couple of years, unless drastic action is taken. This magnificent cat was virtually wiped out by anthropogenic factors in countries that were part of its historic range in Asia. Iran managed to save it from becoming extinct - until now. It is now the high time to take serious action to save the cheetah from extinction in Iran. The country had lost the
Caspian tiger
and
Asiatic lion
in the past; this cannot happen to the cheetah. With fewer than 50 animals left, it is in a desperate need of help and without substantial financial support from international agencies to Iran's cheetah conservation project, the cheetah will become extinct like the tiger and the lion. I urge the government of Iran to not give up on its cheetah conservation. I also urge the people of Iran to wake up and act upon this conservation issue that has remained unchanged since the 1970s. It is extremely crucial to reach out, educate, and encourage Iran's
pastoral
communities to refrain from hunting cheetahs and killing them in a retaliatory manner in order to protect their
livestock
. Instead, they should be provided with
livestock guardian dogs
like
Anatolian Shepherds
which were given to farmers in
Namibia
by the
Cheetah Conservation Fund
in an effort to prevent retaliatory killings of cheetahs. Furthermore, it is necessary to construct
underpass tunnels
that run underneath roads to prevent cheetahs from being
killed by vehicles
and also put an end to mining operations taking place in cheetah territories. The Asiatic cheetah's life hangs in balance and it is never too late to save it. But the world needs to act fast.
View article here