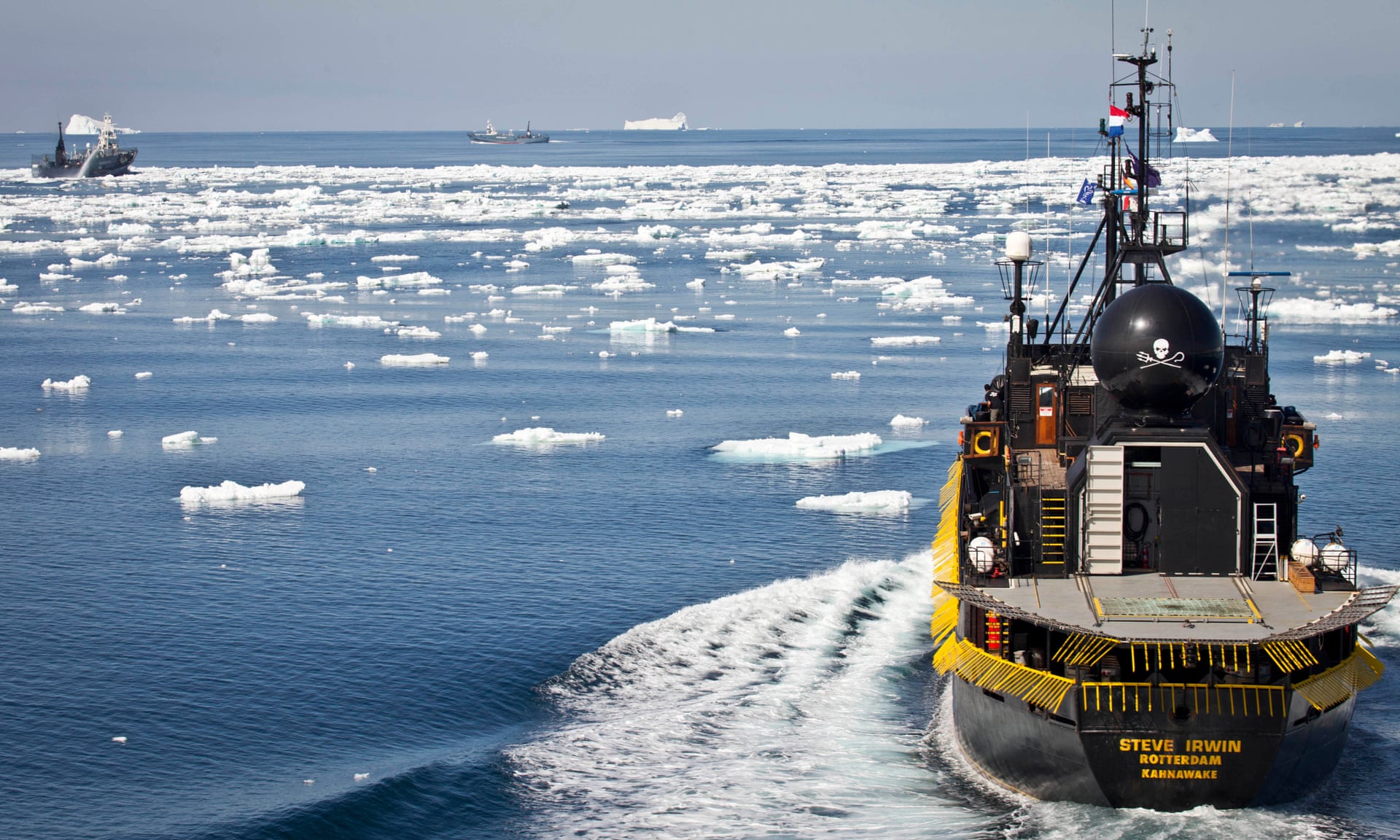 A Sea Shepherd ship in pursuit of Japanese whaling vessels in the Southern Ocean
The anti-whaling organization,
Sea Shepherd
, has recently announced that it will no longer pursue
Japanese whalers
. The organization had been restricting Japanese whaling vessels in
Antarctica's
Southern Ocean
since 2005, but
Captain Paul Watson
, the founder of the organization, stated that the cost of dispatching vessels south, increased use of Japan's military technology to track them, and the passing of new anti-terrorism laws specifically to foil Sea Shepherd's activities made pursuing ships physically difficult. Captain Watson further added that Japanese whaling companies have strong political support, as well as all the resources and grants provided by the
government
. He even accused the governments of
U.S
,
Australia
, and
New Zealand
for being "in league with Japan." Although the governments of these three countries are opposed to commercial whaling, they have criticized
anti-whaling
activists for "dangerous, reckless, or unlawful behavior." Sea Shepherd has been subjected to this sort of criticism for its methods of pursuing whaling vessels, with the Japanese government labeling them as "
eco-terrorists
" and seeking to place Captain Watson on the
Interpol watch-list
. In addition, the organization was
fined for contempt of a U.S court for violating a ruling not to physically attack or harass Japanese whalers
. Despite strong criticism, Sea Shepherds twelve-year effort against Japan's whalers had been successful, having saved 6,500 whales.
Commercial whaling has been an ongoing issue for many years. Much of the criticism had been directed towards Japan. There had been numerous cases in which the Japanese government was summoned to court, regarding whaling. One example was seen in 2014 the Australian government took Japan to the
International Court of Justice (ICJ)
over its whaling program in the Southern Ocean, which resulted in
Japan's whaling programs being condemned for being in breach of the International Whaling Commission's ban on commercial whaling
. The court even refused Japan's argument that it was whaling for "scientific" reasons. A year later, Australia pursued Japan in its federal court which fined the whaling company
Kyodo
$1 million. The penalty has not been paid yet. Last month,
Gerry Brownlee
, New Zealand's foreign affairs minister, stated that he was
"extremely disappointed"
Japan had passed a new bill to finance its whaling fleet and expressed concern about the country's ongoing efforts to reverse the long-term international
moratorium
on commercial whaling. Last year, Australia, New Zealand, U.S, and the
Netherlands
signed a joint statement which accused the Japanese government of disregarding the ICJ order and criticized the anti-whaling activists. Whenever there is news of suspected whaling activity carried out by Japan or any other country, have the governments of U.S, Australia, New Zealand, or the Netherlands taken action by sending their federal agents to confront the perpetrators? Captain Watson indicated that countries opposed to Japan's whaling should have their ships in the southern waters to track and obstruct whaling and uphold their own laws against the practice. If the governments of U.S, Australia, New Zealand, the Netherlands, and other anti-whaling countries cannot tolerate the actions implemented by Sea Shepherd or similar organizations, then they themselves should send their fleet of ships to combat the ongoing threat of whaling.
View article here