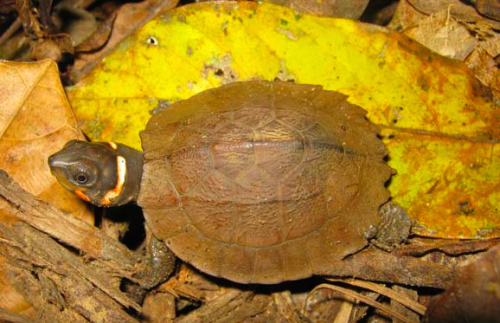 Palawan forest turtle
Two months ago, a series of
illegal wildlife trade
seizures resulted in confiscation of 186
critically endangered
Palawan forest turtles
. These incidents included one that took place on December 16, 2014 when 27 turtles were confiscated during a raid in
Manila
. Six days later, on December 22, 78 more were confiscated in
Taytay
and 18 more were seized in the same city on January 21 2014. The most recent seizure occurred on January 30 in Taytay, which resulted in a confiscation of 28 more turtles. In each incident, Palawan forest turtles were confiscated along with less
threatened
turtle
species
, except for the most current, where they were the one and only species involved. The major threats to these forest turtles are
habitat loss
and the increasing demand in the
international pet trade
. According to Dr. Sabine Schoppe, director of the Philippine Freshwater Turtle Conservation Program and founder of
Katala Foundation Inc. (KFI)
, there are as few as 3,000 Palawan forest turtles left in the wild. KFI is known to work jointly with the
Philippine CITES
Authorities and the
Palawan Council for Sustainable Development (PCSD)
to preserve the forest turtles through
habitat restoration
and protection, local awareness, increasing activities, research, and care and rehabilitation of seized turtles.
Conservation
program
TRAFFIC
has been observing the international trade in
tortoises
and freshwater turtles in
Southeast Asia
for more than ten years and discovered that the trade in extremely threatened species has not been diminished.
Palawan forest turtles from one of the confiscations.
The threat of illegal and unsustainable harvesting of commercial trade is the main threat to Southeast Asia's animal species caused by an outbreak of urban demand. Several species, including Palawan forest turtles, are critically endangered but what is even more disturbing is that the threat generally not recognized or addressed. This indicates why there are growing numbers of confiscations in Southeast Asia. It is highly essential that the threat of illegal wildlife trade be recognized and addressed to the general public throughout the region in order to further raise awareness about the dangers several species face. Furthermore, there should be a demand to stiff penalties imposed on the perpetrators operating the trade and they should be deprived of their rights to
appeal
their cases. In addition, penalties for endangering the lives of threatened species through
poaching
and illegal wildlife trade should include imposing a
life sentence
and even a
death sentence
on the perpetrators. The reason is to send a global message to everybody that wildlife crimes will not be tolerated and anybody involved in poaching and wildlife trade will suffer the consequences. Southeast Asia should no longer be able to afford any losses of its precious wildlife to poaching and the illegal wildlife trade. It is time to take a tough stand against these ongoing atrocities and show no mercy to anyone involved in the endangerment of wild species.
View article here