Environment and Forests Minister Prakash Javadekar with a confiscated leopard skin ready to be burned.
The
Ministry of Environment and Forests (MoEF)
has recently destroyed a large number of confiscated illegal
wildlife
products, in order to maintain its intolerance towards the
illegal trade
of such merchandise. The products, which derived from animals such as
deer
,
elephants
,
leopards
,
lions
,
mongooses
,
owls
,
snakes
, and
tigers
, were smashed and burned by MoEF officials at the
Delhi Zoo
. These illicit products resulting from lawless activities in
India
were confiscated by the
Wildlife Department of Delhi
in an effort to combat wildlife crimes. In addition, few wildlife products at the Delhi Zoo were also destroyed. According to Minister of Environment and Forests
Prakash Javadekar
, the money produced from the illegal wildlife trade is being used for global crimes like
terrorism
and
drug trafficking
and indicated that the
government
is dedicated towards the protection of India's
fauna
and
flora
. He further added that the practice of
hunting
occurred 200 years ago and resulted in a situation where several
species
of animals became
endangered
and the verge of extinction.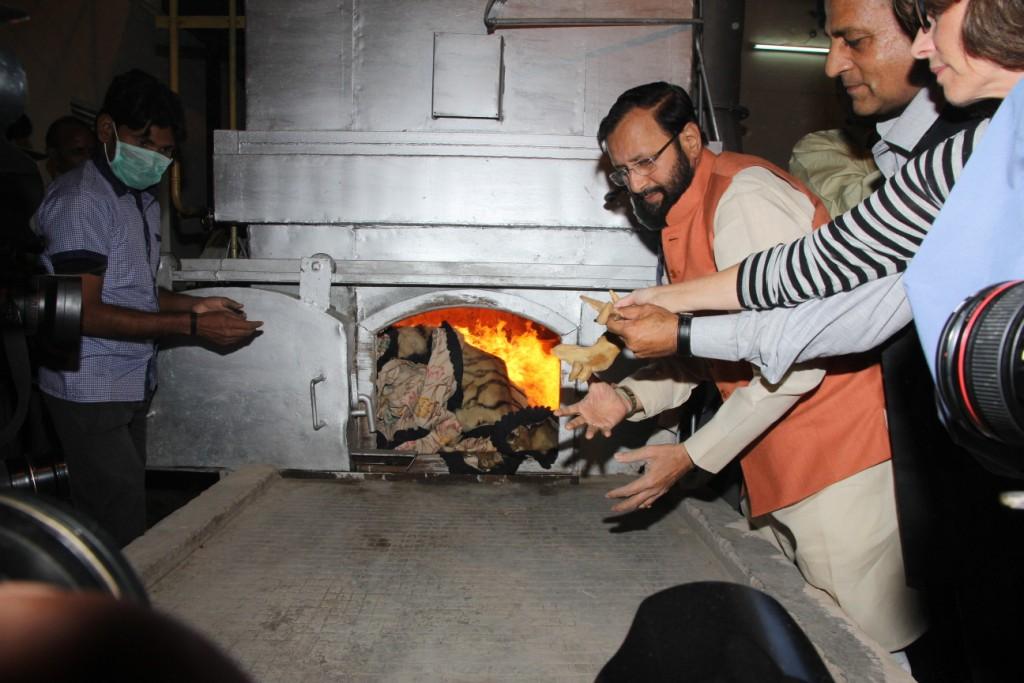 Minister Prakash Javadekar and other MoEF officials burning illegal wildlife products in the Delhi Zoo.
This action committed by the MoEF sends a clear and distinct message that India cannot and will not tolerate the illegal wildlife trade which continues to threaten the world's endangered species. This lucrative, yet illicit business is connected to other global crimes like illegal drug trafficking,
arms trafficking
,
human trafficking
, and even terrorism. That is, the money generated from the illegal wildlife trade is used for carrying out criminal activities that endanger human lives. In other words, terrorism and other global crimes that threaten human beings are intertwined with
poaching
and the illegal wildlife trade. This is why it is essential to understand this connection so that the world can come together to put a stop to crimes directed at both humans and animals. When admitting that money made from the illegal wildlife trade is used for conducting crimes against humans, Minister Javadekar gave an example of how a single
rhino
horn can produce
Rs
. 10 million which can be used for terrorism or drug trafficking. Another classic example is seen in the case of elephant
ivory
which is used to finance
Africa's
militant groups such as the
Al-Shabaab
,
Janjaweed
, and the
Lord's Resistance Army (LRA)
. In
Malaysia
, there are
fewer than 350 tigers left as a result of poaching
and the money generated from the products derived from these
big cats
could be used for trafficking drugs, weapons, and humans or even terrorism. Therefore, it is essential that countries around the world, including those that serve as major hubs for poaching and the illegal wildlife trade, to band together in order to put a stop to wildlife crimes in order to not only save endangered species but also human beings.
View article here