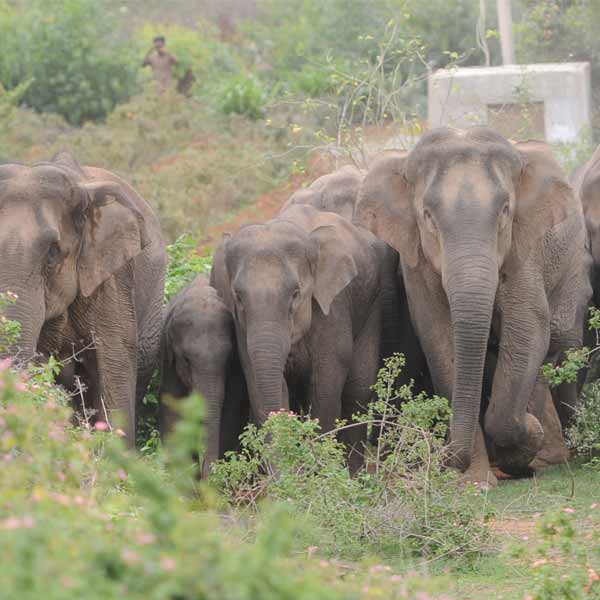 A herd of Indian elephants
The
Ministry of Environment and Forests (MoEF)
has recently approved the use of technology, specifically 24/7 electronic surveillance and wireless sensors, to end high numbers of
elephant
fatalities due to train collisions. The use of electronic surveillance and wireless sensors is a new addition to a series of measurements such as reducing speed of trains in areas haunted by elephants that the MoEF has identified to protect them and also save them from train collisions. The MoEF had also notified the
Supreme Court
about these new measures in an
affidavit
filed last week where a case is being conducted on the issue. In addition, the ministry has also notified the apex court about ratifying site-specific solutions instead of enforcing systematic measures for the entire elephant landscape which is extended across sixteen
Indian states
covering nearly half of
India
. These states include
Odisha
and
West Bengal
where the problem of elephant deaths by train collisions is quite dangerous. The Supreme Court has over the years showed concerns over the elephants' deaths after being killed by speeding trains, and even requested the
railway
and environment ministries to take concerted measurements to stop the danger.
The MoEF is now fighting for the use of electronic surveillance to keep a note on such deaths. In its affidavit, it notified the court about a pilot project by the
Indian Institute of Technology (IIT) Delhi
for an economical wild animal detection system that uses wireless sensor systems at
Uttarakhand's
Rajaji National Park
. The ministry had earlier set up the "e-eye" system based based on infra-red cameras on pilot basis in
Corbett National Park
for following wild animals and catching
poachers
. Now, it has told the government of West Bengal to check out the usefulness of implementing the "e-eye" in the state's
northern
landscape. The affidavit also disclosed that the MoEF and railways have agreed on restricting the train speed to 25 kilometers per hour in all recognized elephant
habitats
. The ministry also proposed diverting goods and unscheduled trains from other routes in elephant areas recognized in West Bengal. Other measurements suggested included easement of lofty slopes on railway hills in all elephant areas, planning barriers and
fencing
in vulnerable expanses of
railway
tracks
, stimulating railway staff, and constructing ramps and
underpasses
in areas frequented by elephants to expedite smooth movement of the animals.
The approval given by the MoEF in using electronic surveillance and wireless sensors shows that elephants can safely cross railway tracks with little or no fear of being killed by oncoming trains. This also shows that the railway ministry would not have to face any further problems regarding damage to the trains as a result of elephant-train collisions. Reducing speed limit of trains is not enough to put an end to the growing problem of elephant-train collisions. Solutions such as constructing ramps and underpasses, establishing barricades and fencing in vulnerable areas of railway tracks, sensitizing railway staff, and diverting trains from other routes are also essential in further maximizing the safety and protection of elephants from train collisions. These measurements would not only help save elephants, but also other animals that share the same habitats with elephants in areas dissected by railway tracks. However, elephants are not the only animals in India at risk of being killed by trains. There have been reports of
lions
getting killed by trains either in the vicinity or outside
Gir Forest National Park
. It would also be beneficial to implement the same measurements being proposed to help save the elephants from getting hit by trains in order to ensure the safety and well-being of lions.
View article here