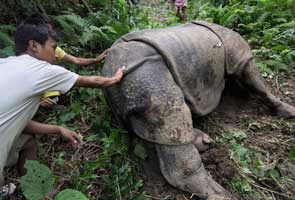 A dead rhinoceros in Kaziranga National Park
The
Kaziranga National Park
in
northeast India
had been hit by
monsoon floods
in June this year, forcing wild animals to escape the rising waters and into the bloodthirsty hands of
poachers
. Since then, more than 700 animals have perished and more
carcasses
are turning up as water levels recede. But now, there is another greater threat that is targeting Kaziranga's wildlife, especially
rhinos
: Armed militant separatist forces in the area. The news about militants' involvement came when an arrested rhino poacher named Lindok Rongpi admitted before a magistrate that he killed six rhinos under the orders of Songja Timung, a supposed defense secretary of the
Kuki National Liberation Front
, a militant group based in
Assam's
Karbi Anglong district
. His arrest led the police to the town of
Dimapur
in
Nagaland
, the center of
illegal wildlife trade
, only to discover that a
Chinese
buyer named Ho-Chin had fled.
A market scene in Dimapur, a center of illegal wildlife trade.
The threat of militancy to Assam's wildlife is nothing new. In the 1980s,
Laokhowa Sanctuary
, a wildlife sanctuary near Kaziranga, was completely eradicated of its rhino population intentionally by the
United Liberation Front of Assam (ULFA)
.
Manas National Park
lost its status as a
World Heritage Site
after the
Bodo
militancy annihilated its wildlife. With a host of armed militants in Karbi Anglong and with proof of their involvement in recent poaching cases, it is likely that Kaziranga could be in similar danger. By poaching Assam's rhinos, the militants make money which they use to buy
firearms
. A post-mortem of the animals disclosed the use of
automatic guns
which provided further evidence about the militants' involvement, considering professional poachers
.303 rifles
instead of spraying bullets. These threats are associated by the way rhinos are being poached. In several cases, wildlife officials found that rhinos were dehorned even while alive. This is done when a poacher would cut off the rhino's horn while it recovered after being shot by a gun. In one case, an ear was hacked off leaving the rhino to bleed to death. In the last two weeks, police have so far seized one
AK-56
, two .303 rifles, and one SBML (single barrel muzzle loading) gun along with recovery of bullets from automatic weapons.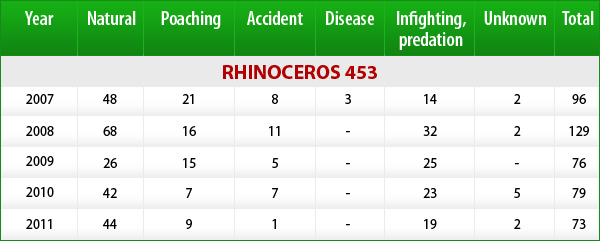 Rhino mortality data
It is utterly shocking to find that separatist militant groups have and still are a major threat to
India's wildlife
. In addition, these ruthless cutthroats have ties to the illegal wildlife trade in which they make their money off poaching so that they can purchase firearms to carry out their carnage against innocent civilians. This situation in northeast India can easily be compared to
Africa
, where the
poaching of elephants is funding militias and rebel groups with their wars
. This article paints a clear picture of why poaching in India should be taken seriously because not only would it result in loss of animal lives, but also civilian lives. However, even with the enhancement of security measures in key rhino poaching hotspots like
South Africa
, the threat of poaching and the price of rhino horns has also increased. A report by the
World Wildlife Fund (WWF)
stated that Kaziranga National Park is vulnerable to poaching due to its nearness to
India's
border with China. This is why I believe that Kaziranga and every other
national park and wildlife sanctuary in India
must be heavily guarded not just by wildlife authorities, but also the military. Poaching in India and other parts of the world like Africa are often militant-affiliated, which makes the battle more complicated and requires the use of military power against such threats.
View article here