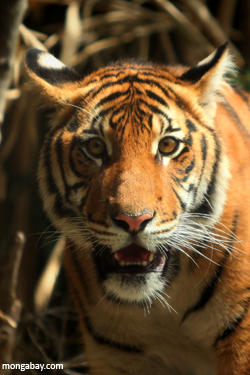 A Malaysian tiger
The
Environmental Investigation Agency
(EIA) has recently stated that
China
has fallen short of commitments in tiger protection. The agency has also written a letter to
Premier Wen Jiabao
expressing concern over China's State Forestry Administration's handling of tiger protection. Jiabao had initially made a pledge during a
Global Tiger Forum
held in
St. Petersburg
last
fall
that China would vow to work with other Asian nations to end the global trade of tiger parts. But during a series of meetings on the
illegal wildlife trade
held in March, it was pointed out that a representative of China's law enforcement was unaware of any arrests or prosecutions related to the tiger trade or even the seizures of tiger products since the forum. EIA also showed that China relies heavily on
NGO
-generated intelligence to keep track of the illegal trade in tiger parts.
In addition to commitment, the agency also revealed that the nation lacks the capacity to address its promise to increase its tiger population within its borders and end the trade in tiger parts. According to EIA, the capacity is further combined by the Chinese policy which undermines the nation's commitments to its tiger protections. The agency recommends that China should establish a
zero tolerance policy
for the trade in tiger parts, and further forbid all such illegal activities. EIA even encouraged Premier Jiabao to give responsibility to a full-time unit of police officers for crimes in the wildlife trade, and work to intensify the capability of the State Forestry Administration to respond to wildlife crimes. throughout the nation.
I'm very much shocked and surprised to hear these news about China's role in the tiger protection. Earlier before the Global Tiger Forum, China had made a vow to help put an end to the illegal trafficking of tiger parts. These include signing a
memorandum of understanding
(MOU) with India, and working with it to curb such illegal activities. However, as early as 2007, China had adopted an agenda which would allow the sale of tiger skins of "legal origin" which violates its commitments under the
Convention on the International Trade in Endangered Species
(CITES). These commitments state that tigers should not be
farmed
like livestock for their body parts. I'm very proud to see what flaws the EIA has revealed in China's position in the world's tiger protection, and very much agree with its recommendations. If China wants to help save the world's tigers, it should rely on more than just NGO-generated intelligence.
View article here