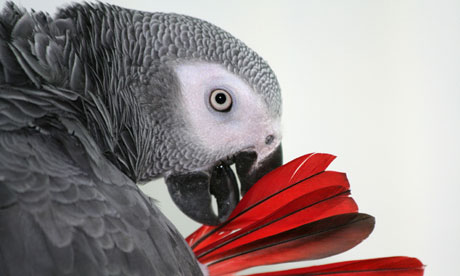 An African Grey Parrot
Recently, a series of
sting operations
in central Africa has broken up a highly organized
wildlife smuggling
ring which has been exporting
endangered species
abroad into, leading to arrests of powerful dealers and a recovery of hundreds of kilos of
ivory
, turtle shells, and animal skins. The operations took place in four neighboring nations:
Gabon
,
Cameroon
,
Central African Republic
, and
Republic of Congo
. The clampdown was coordinated last week by a wildlife law enforcement NGO known as the
Last Great Ape Organization
(LAGO), which is based in these four countries. The work from this NGO marked a big step towards enforcing regional laws in protecting endangered species.
In Gabon, a group of undercover agents posed as smugglers and arrested sixteen key dealers in possession of 150 kg of ivory. This haul was estimated to be worth about 90,000
pounds
on the
international market
, and was believed to be destined for China via
Nigeria
. The sixteen dealers were put into custody, after being refused bail following the operation. Luc Mathot of agency AALF had proposed this environmental project to the government, and stated that it was the first time ivory dealers had been put into prison. This meant that Gabonese authorities were ready to monitor, find, condemn, and imprison anyone dealing ivory in the nation. In Cameroon, three dealers were arrested in trading seventeen turtle shells. Also, a cargo of 1,000
African grey parrots
was intercepted while being smuggled into Nigeria. At the scene, a police officer was arrested on suspicion of accepting a 2,000 pound
bribe
to release the truck and allow it to pass. Another operation in Central African Republic seized seven
leopard
skins, two lion skins, and two elephant tusks hidden under a pile of
cowhides
in a dealer's truck. They were thought to be bound for either Europe or the
U.S
to decorate rich homes. On that same day, wildlife activists in the city of
Ouesso
in Congo found 30 kg of ivory.
According to Ofir Drori, founder of LAGA, this campaign was a breakthrough for the four countries who would sign up to global protections of these animals but fail due to poor legislation and law enforcement. He further stated that the overall conservation in the central African region is a failure behind the so-called success stories. That is, the
poachers
still have the upper hand and the fight has just begun. The smugglers have been part of a sophisticated mafia that has grown in over the past twenty years. The major obstacle for the wildlife law enforcers is tackling the endemic
corruption
in the region.
I'm very proud to see how these neighboring countries are now taking a step against the threat of illegal poaching and
wildlife trade
. However, these are also the countries deeply affected by corruption. And it is because of corruption that poachers and wildlife smugglers are getting the advantage. That is, regular law enforcement does little to stop them. A classic example was seen in Cameroon when a police officer allowed a truck containing a large haul of African grey parrots to pass into Nigeria after accepting a bribe. I personally believe that the law enforcement in these countries should learn about the dangers of poaching and wildlife trafficking, and how the operators of these malicious activities are sophisticated in manipulating regular authorities. In addition to that, I also feel that all four of these countries are in a need of help regarding the corruption that has been devastating them. If the law enforcements of these neighboring nations become aware regarding the illegal wildlife trade and some form of aid is given in order to end the endemic, then both people and animals will be able to live in peace and harmony.
View article here