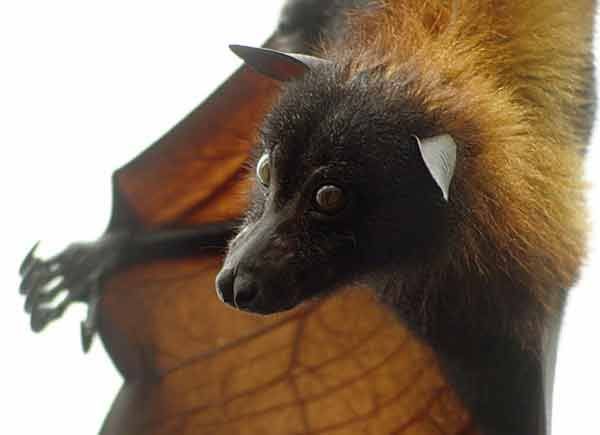 Giant golden-crowned flying fox
In the province of
Negros Oriental
in the
Philippines
, there has been deep and fearful concern about two types of
fruit bats
becoming extinct due to uncontrolled human activities and
poaching
. They are the
Negros chevenous fruit bat
, and the
golden flying fox
. Both of these bats have been identified as sources of food for the local people in areas, such as
Valencia
and
Barangay Enrique Villanueva
in
Sibulan
where they thrive because of the availability of fruits and flowers. The people have been known to catch these bats using nets and traps known locally as "balag-ong." This practice has been known to occur during the fruit-bearing season native fruit trees. According to Pol Carino, a wildlife advocate and an environmentalist, he learned about the illegal poaching of these bats during a
lanzones
season in Valencia. He was also deeply saddened about the animals' situation, and hopes that the PNP (Philippine National Police) will intensify its monitoring and law enforcements towards such illicit activities. In addition to that, other wildlife species threatened to extinction in the province include the
Negros bleeding heart pigeon
and the
Negros forest frog
. Of these two species, the forest frog is perceived as forest indicator, in which its presence is seen as proof that a forest is healthy and still growing.
I'm also saddened about the fate of these two fruit bat
species
. Both of these species, like other fruit bats, are known to play a vital role in the forest
ecosystem
in which they promote
seed dispersal
. That is, when they eat fruits, the seeds are digested out of their bodies which in turn transform into the trees of that particular fruit. If the bats disappear, then other
wildlife species
in Negros Oriental will too. And the forest frog is one of them. Without it, scientists, researchers, and nature lovers will not be able to tell whether a forest is healthy or not. I also feel that just hoping what the police will do regarding this environmental catastrophe will not help. It is best to establish research and rescue centers for these fruit bats, especially those who have been orphaned. This method has been done in
Australia's
Northern Territory
where fruit bats are viewed as nuisance in local fruit farmers. If Australia can do it, then Philippines can too.
View article here