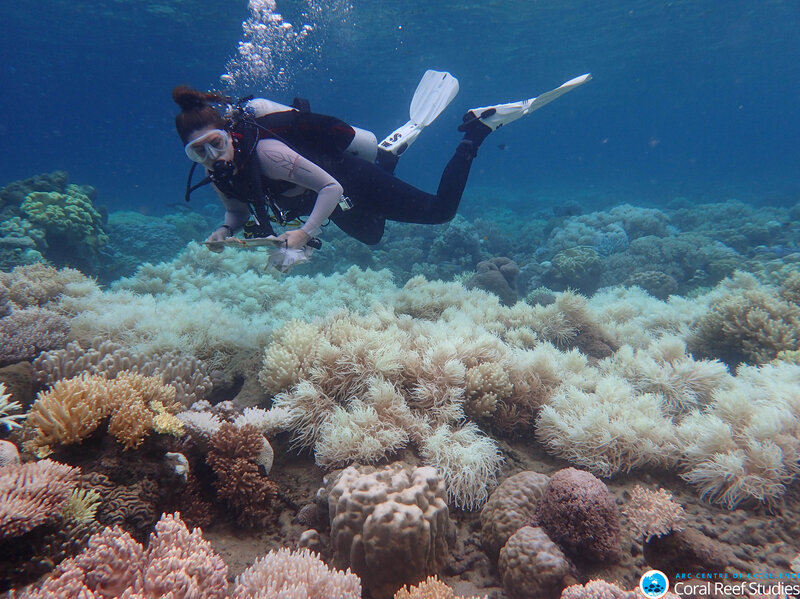 A diver surveying bleached coral of the Great Barrier Reef near Orpheus Island.
Aerial surveys
have recently showed that Australia's
Great Barrier Reef
has been hit by severe
coral bleaching
for the second consecutive year. Incidences of severe coral bleaching in the reef had occurred three times in the past twenty years in 1998, 2002, and 2016. This year, however, marked the first time it has happened two years in a row. Scientists indicate that the damage is caused by increasing water temperatures due to
global warming
. According to
James Kerry
, a senior research officer of
Queensland's
ARC Center of Excellence for Coral Reef Studies
, it takes about ten years for a full recovery, so mass bleaching events twelve months apart offers zero possibility of recovery for reefs damaged in 2016. He further added that it was "shocking" to see the degree of damage in a different section of the reef. Last year's damage was the worst in the northern third of the reef, while this year's damage is most serious in the middle third. According to Kerry, those areas of damage somewhat overlap so "some of the reefs now, in the northern and central section, have had a double dose of severe bleaching for two years in a row."
Composite map showing survey of coral reefs in 2016 and 2017.
Aerial footage released by the ARC Center showed large swaths of the reef drained of color. Although corals can recover if the ocean temperature returns to normal, continued stress may cause them to die.
Mia Hoogenboom
of
James Cook University
conducted several underwater assessments for the survey, and said she recorded damage to mound-shaped corals that are known to be more resistant to bleaching. The Arc Center further added that
Cyclone Debbie
"struck a section of the reef that had largely escaped the worst of the bleaching." A
research
on last year's bleaching incident showed that more than 90 percent of a 1,430-mile stretch of the reef had experienced some form of damage. A recently published
study in Nature
indicated that local measurements can basically do little to the reefs from bleaching. Instead, securing the future for coral reefs "ultimately requires urgent and rapid action to reduce global warming."
Photograph of bleached coral taken during an aerial survey near Cairns.
The Great Barrier Reef has long been considered one of the most iconic biodiverse hotspots in the world by scientists and researchers. However, this magnificent "garden of Eden" is under severe threat from bleaching due to global warming. This is why it is extremely crucial to take major steps to reduce global warming. If global warming continues, vast majority of life in the reef and other parts of the world would completely disappear. Therefore, the goal to prevent further bleaching of corals not just in the Great Barrier Reef, but in other parts of the world as well, is to urgent action to reduce further impact of global warming.
View article here