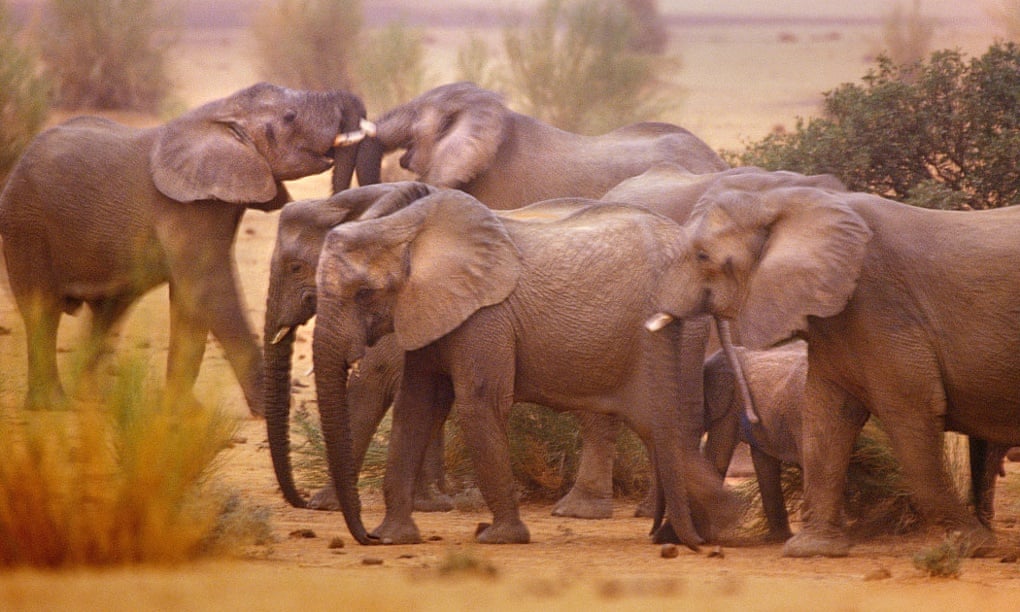 An elephant family in Mali
Africa's
elephant
poaching
has been reaching unprecedented levels in the past years. Much of the poaching activities have occurred in
Central
and
East Africa
to feed the growing demand of
ivory
in
China
and finance militant groups like
Al-Shabaab
, the
Janjaweed
, and
Lord's Resistance Army (LRA)
to finance their
crimes against humanity
. But now, this ongoing epidemic has recently been reported in
Mali
where nineteen elephants have fallen victims to poaching over the past month. Their deaths have been blamed on poaching by rebellious
jihadis
and other rebel insurgents connected to the cross-
Sahara
smuggling
syndicate.
Conservationists
indicated that there are 350 to 500 elephants believed to be living in the country, and are under an increasing threat not only from poachers but also
climate change
and decreased rainfall. The elephants' home in the region of Gourma is located in a portion of Mali where there is no government control and has been rife with activities from
Al-Qaeda
and other
extremist
organizations. According to Nomba Ganame, a Malian representative of the
WILD Foundation
, the slaughter in the past five weeks indicated the first example of extensive poaching in the country. He further added that in 2012, several young men were attracted by high stipends offered by Al-Qaeda and other groups and took up
arms
in response. However, when they found themselves rejected from their communities, they turned to
organized crime
. At a parliamentary conference in the capital city of
Bamako
, a member of the
government's
nature conservation group called for
military police
to send in military aid. The reason is due to shortage of staff and vehicles to patrol a 32,000-kilometer area. Mr. Ganame asserted that WILD Foundation had offered young men an "honest alternative" to joining the jihad through an income supplementation program. This program is known to give part-time work for 500
farmers
and
shepherds
near the elephants'
migration
trail. Their job includes outlining the animals' movement and an intention to resolve human-elephant conflicts. One 40-year-old farmer from Gourma's
Hombori
area stated that the Al-Qaeda had tried to enlist him several times in 2012 as an organizer with a monthly income of 300,000
CFA francs
. He further added that Wild Foundation gave him a motorcycle for his daily rounds to watch elephants,
fuel
, and food. In his own words, the farmer stated that looking after Mali's elephants gave his life meaning. Furthermore, the program changed his perspective towards Al-Qaeda whom he says are "liars."
Map of Mali showing the region of Gourma where the elephants live.
The elephant poaching epidemic in Africa has been spreading to other parts of the continent and Mali is a recent site of such activities. The country has also been the site of several activities linked to Al-Qaeda and other extremist groups that have contributed to its instability. One of the most recent examples of civil unrest in Mali occurred when Al-Qaeda and other groups propagated themselves onto a
Tuareg
-led
revolution
calling for an
independent state in the north
. This has led to a
French military
intervention in January 2013 with French forces continuing to battle against Al-Qaeda and even an establishment of a 10,000-strong
U.N
stabilization force known as
MINUSMA
which is protecting cities like
Gao
and
Timbuktu
. However, Al-Qaeda has been continuing its attacks and never showed any signs of slowing down. Fighting has tremendously increased in the past few weeks between
Arab
and Tuareg rebels and loyalist militias. Much of the battles have centered on critical staging areas along Sahara's smuggling trails used to transport
drugs
,
firearms
, fuel,
immigrants
, and now ivory. This indicates that Mali's elephants are caught in the crossfire and are under dire threat from Al-Qaeda and other extremist organizations that have claimed lives of forty U.N peacekeepers almost two years ago. Although it is beneficial that the WILD Foundation has established a program to provide Malian farmers and shepherds a better alternative to joining Al-Qaeda and help make a positive contribution, the threat of
civil unrest
and
terrorism
still looms. It is highly essential to combat Al-Qaeda and other groups that are continuously wreaking havoc on the daily lives of Mali's people and elephants. This includes forming a joint partnership between the country's military and rangers in protecting the lives of both people and elephants. Furthermore, farmers, shepherds, and other people should be encouraged to never join forces with Al-Qaeda and persuaded to be part of the program committed to saving Mali's elephants. The feedback from the anonymous 40-year-old farmer is a clear indication that participating in this program can greatly benefit potential recruits, as well as the elephants and the Malian community. It is also important that the government of Mali should be involved in this movement by providing the program's recruits monthly income that would support them and their families. Otherwise, these people would be forced to take a different path which involves joining an organization of ruthless and bloodthirsty cutthroats who have absolutely no regard for human or animal life.
View article here