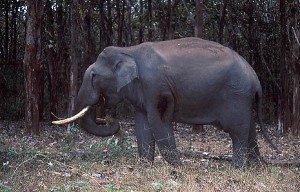 An elephant in Simlipal National Park
It has been recently reported that a group of four
elephant
poachers
in
Orissa's
Simlipal National Park
have renounced their poaching ways, in an effort to help keep the wildlife safe. The four men, who were responsible in killing of at least eighteen to twenty elephants, surrendered before the forest officials and are set to be part of the national park's protection squad. According to Simlipal's field director Anup Nayak, the four men live in villages on the
foothills
of the national park. The eldest of the four was Dhanu Soren. A member of the Anantpur village, he had been a poacher for the past twenty years and gained notoriety for training and recruiting local youngsters in the illicit activity. The other three included Budhuray Hembram, Chotray Marandi, and Lakshman Marandi. The group's impudence became a serious matter when nearly 1,200-1,300 members of their gang held 59 forest personnel hostage in the Upper Barakamra range in Simlipal's core area in May last year.
Forest road through Simlipal National Park
The change of heart in these four men happened as a result from efforts put Honorary Wildlife Warden Bhanumitra Acharya. Warden Acharya was able to reform them with the help from local village youngsters who are members of the Simlipal Tiger Protection Force (STPF), which he established in 2001. The organization is now comprised of above 1,013 members, which include village youngsters from 1,200 surrounding villages. In addition, Warden Acharya also founded the Simlipal Special Force which is comprised of twenty youngsters and former
army
officials who work as an active action group during an emergency situation. According to Warden Acharya, the organization was able to convince the four ex-poachers to give up their illicit profession after a series of meetings. However, this was the first part of this extraordinary success story. The real test will be to exercise their talents, network, and
modus operandi
to capture other poachers. The four men have been utilized as protection assistants by the
forest department's
team of sentries.
This article is an explicit demonstration of how wildlife protection should be conducted around the world. Battling wildlife crimes such as poaching,
habitat destruction
, and the
illegal wildlife trade
does not only mean apprehending the perpetrators and sentencing them to prison time. It is also about giving them a second chance in life. And what better way to do than giving these individuals an opportunity to work side by side with wildlife officials in an effort to protect the animals which they kill for profit? This action was seen in the case of these four poachers, who were infamous for not only slaughtering elephants but participating in holding forest personnel hostage. Now, these newly-reformed men have given up their lifestyle of poaching to become part of a protection squad comprised of members from their individual villages. I firmly believe that the efforts Warden Acharya took, in order to protect the wildlife of Simlipal National Park should be an inspiration to national parks and wildlife sanctuaries across India and in other parts of the world to protect their local wildlife. This remarkable success story has already inspired an organization called Sangram, which has launched a program titled "Pratyavartan" in order to encourage poachers and other such people who cause any harm to the environment to renounce their lifework and make their living by respectable means. A similar concept is seen when a
gang
member or any regular criminal either rejects or is convinced to give up the lifestyle he/she led in committing crimes, in order to educate other people not to follow the same path. If the protection of the world's wildlife is enhanced this way, in which poachers and other such criminals be given a second chance to redeem themselves, then the battle against the ongoing threats these people have been committing will likely to cease. However, it is also vitally important at the same time to be vigilant for any individuals who would turn out to be uncooperative for offers like what these four men were given.
View article here