It has been recently reported that a new
advertisement
campaign has started in
South Africa
to stop its
lion
bone trade
. The campaign has been established by a global web movement known as
Avaaz
("voice"). The ads calling for the stop in the
lion bone trade
can be seen in the arrival hall of
Johannesburg's
OR Tambo International Airport
, the
inflight magazine
aboard
South African Airways
, and on
Google
. They are targeted at
canned hunting
, in which lions are born and raised on game farms for the purpose of
hunting
. Hunters are known to pay as much as $20,000 to shoot a lion inside a
fenced-in
area with no chance of escape. According to Avaaz's Campaign Director Jamie Choi, the trade in lion bones as
aphrodisiacs
is ongoing and experts fear that even wild lions, which number only 20,000 in
Africa
, are beginning to come under the attack. She further added that this lucrative, yet sadistic trade could hurt
South Africa's tourist industry
and its reputation as a
wildlife
haven unless South African President
Jacob Zuma
steps in and place a ban on the trade. Before launching the advertisement campaign, Avaaz had launched a global petition campaign prompting President Zuma to put a stop to the lion bone trade. After one month, the organization received 700,000 signatures from around the world. However, it did not receive any response from Environment Minister
Edna Molewa
or President Zuma's office. This led to the organization to launch its advertisement campaign to bring attention on what is happening to South Africa's lions. The issue was looked into by researchers at the
University of Pretoria
and
Virginia's
Sweet Briar College
. Their study showed that South Africa's captive-bred lion hunting industry has grown very quickly, while the numbers of lions hunted in the wild in other African countries has decreased. They also stated that if captive-bred lion hunting was prohibited, the demand to hunt lions in the wild could increase resulting with negative impacts on the populations. They further added that decision-makers should take acknowledgement of the competence for increased demand for lion
trophies
and exercise steps to prevent extreme harvests. These steps include intensified restrictions on
sustainable harvests
, age restrictions on trophies, and in the case of South Africa, consideration of establishing
buffer zones
around parks where lion hunting is prohibited or tightly controlled.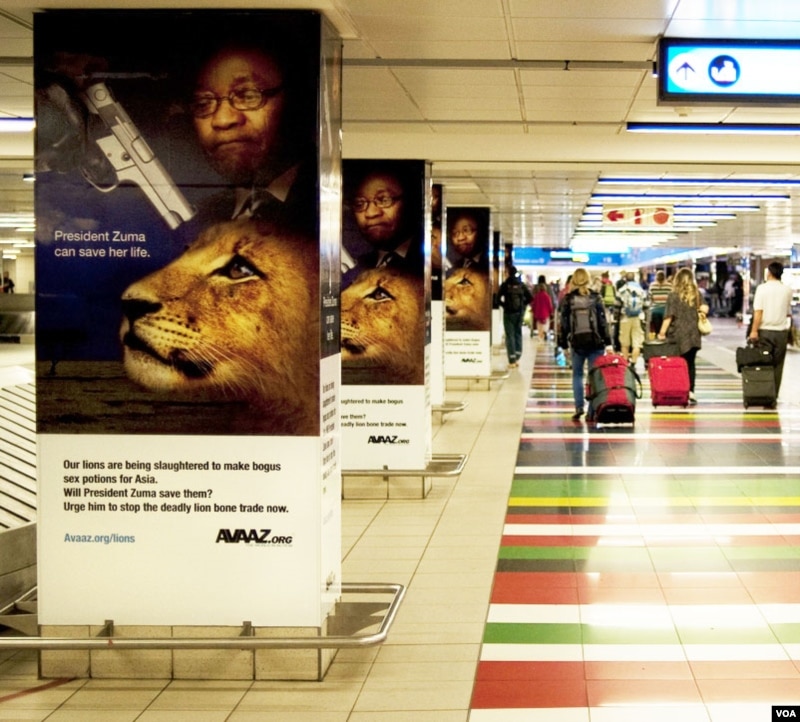 Advertisements opposing the trade in lion bones at the OR Tambo International Airport
This article gives a clear representation about the dangers lions in South Africa are facing from humans. The two major threats these powerful and majestic animals are facing are the trade in their bones and canned hunting. In my opinion, South Africa is the only nation outside the United States to have facilities designed to provide clients with the opportunity to hunt wild animals in a fenced-in area. This idea of raising lions and other wild animals mainly for the purpose of hunting is considered to be both macabre and unethical. The animals are trapped inside with nowhere to escape, which violates the concept of "fair chase" according to some hunting organizations. For this reason, I believe South Africa should take a stand against this brutal and bloodthirsty hunting practice as part of the efforts to protect its wildlife. At the same time, there is an urgent need to put a stop to the lion bone trade. Despite the number of signatures Avaaz received, none have been from Environment Minister Edna Molewa who in May denied calls to outlaw the lion bone trade saying that it did not put wild lions in danger. I'm extremely shocked and hurt by this action because here you have a key figure of the South African government, who expressed tremendous concern for the plight of the nation's rhino population but did not believe that lions are in grave danger. This is why it is extremely crucial that the government of South Africa should take the initiative to help protect the nation's wildlife from a variety of threats ranging from poaching and the illegal wildlife trade, to canned hunting. If these horrific crimes against wildlife continue, then it would deeply impact South Africa's tourist industry and tremendously impact its reputation as haven for such magnificent creatures.
View article here