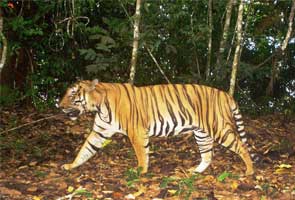 A tiger
Earlier in November 2010, a
global tiger summit
was held in
St. Petersburg, Russia
where a total of thirteen nations came together and had an agreement to work towards saving
tigers
through both national and global levels. They made a promise to work together in doubling the global tiger population, which had plummeted from an estimated 100,000 to 3,200 in a hundred years. Now, the same participants are going to meet once again in the capital city of
New Delhi
in
India
. There are three areas of focus in this meeting: Protection of tiger habitats, cracking down
poaching
and
trafficking of wildlife
, and law enforcement in
protected areas
. During the start of the three-day meeting, Secretary of Environment and Forests, Dr. T. Chatterjee addressed that researching of new mechanisms at both global and national level is necessary, which allows the involvement of people in
conservation
. Inaugurating the meeting was Union Minister
Jayanthi Natarajan
, who stated that the enlistment of local public support is crucial for
tiger conservation
. She further added that while the "inclusive" multiple use strategy in surrounding
buffer areas
have tightened the tiger conservation, the involvement of people can further strengthen the cause.
I also very much feel that it is necessary to enlist local public support, in order to reboost the global tiger population. In places like
Vietnam
, there is probably a small fraction of public showing support to tiger conservation. This is why it is crucial to involve the public in the conservation of tigers and other endangered species around the world. While animals like tigers are slowly and steadily increasing in India, the surge in population does not stop threats like poaching to take their toll. Some of the remarkable success stories include
Nepal's fight to save the Indian one-horned rhinoceros
. These stories should not only be viewed as success that our world is doing what it can to save the wildlife of the world, but also as an inspiration and a wake-up call to nations where the lives of wild animals are in serious jeopardy. Involving the support from public in
wildlife conservation
is also the key in helping put a stop to threats, such as poaching and wildlife trafficking around the world.
View article here