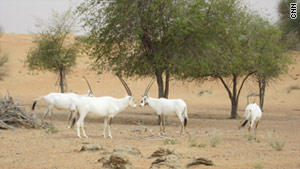 An Arabian oryx herd
The
Arabian oryx
is one of the most magnificent species of
antelopes
in the world. For generations, it had been associated with the legendary
unicorn
and was often the subject of classical
Arabic poetry
. However, its grace and beauty had made it a target for
Bedouin
hunters, who hunted it for its hide and meat. Countless hunting led to the demise of this antelope, and it was believed to have been extinct in the wild by 1972. Fortunately, the
Phoenix Zoo
of the
U.S
had teamed up with
Fauna and Flora International
ten years earlier and started to establish the first
captive-breeding
of the oryx with financial help from the
World Wildlife Fund
(WWF). The project became known as
Operation Oryx
, and by 1982, the first
reintroductions
were made in
Oman
. Over the period of time, they had been brought back to their former haunts in nations like
Saudi Arabia
, the
U.A.E
,
Israel
, and
Jordan
.
An Arabian oryx in Israel
But now, it has been reported that the antelope's numbers in the wild have increased to 1,000 animals in all five of these
Middle Eastern
countries. According to the
International Union for Conservation of Nature
(IUCN), who recently labeled the antelope as "
vulnerable
" from "
endangered
", it was an extraordinary conservation success story. The union further added that there have been reintroductions proposed in
Iraq
,
Kuwait
, and
Syria
. Thabet Zahran Al Abdessellam of
Abu Dhabi's Environment Agency
stated that the agency has formed an oryx
conservation group
covering these nations where it once thrived. He further added that they have a mutual agreement with Syria.
Captive oryxes resting
I'm extremely happy and proud at the efforts all these countries had put into, in order to save the Arabian oryx. The prized treasure of
Arabia
, which was once nearly lost forever, has now made a successful comeback into the region's rugged and sun-baked wilderness. What is one thing that I find interesting about its reintroduction is the fact that it was brought to the U.A.E ten years ago. Most people think of the U.A.E as a place famous for its luxurious hotels and resorts, but one hotel resort which stands out the most is the
Al Maha Desert Resort
. Established in 2004, this resort overlooks a stunning desert landscape which houses a rich variety of wildlife, including the oryx. At least 450 now live in this oasis.
Scimitar-horned oryx; a close relative currently thriving in captivity
I'm also very proud to see that nations like Kuwait, Iraq, and Syria have been taken into consideration for further reintroduction. This means the range of the Arabian oryx will be further expand to how it was centuries ago. However, I sure hope that everyone involved will be better prepared for any threats of
poaching
. One incident took place at Oman's
Arabian Oryx Sanctuary
when numbers had plummeted from 450 in 1996 to 65 animals in 2007. At the same time, the Arabian oryx's relative, the scimitar-horned oryx, had suffered similar consequences in
North Africa
. Like its Arabian relative, the
scimitar-horned oryx
is now currently in captivity. I just hope that all the countries where it once thrived would band together just like their Middle Eastern counterparts, in order to reintroduce this oryx back into the wild.
View article here